Bikes are a fantastic eco-friendly mode of transport. They are also great at keeping us fit and healthy; and are a fun leisure activity for young and old alike. If a well-made bike is properly taken care of, it can last generations. Therefore the need to dispose of a bicycle should be rare. Only consider disposing of one if it is broken and unfixable. Even then, the entirety of a bike will not need to be discarded. All functioning parts will be able to be reused in some capacity. If you have an old bike that you no longer want, there are plenty of things you can do with it.
What can I do with an old bike?
There are so many options for what to do with an old bike. But one thing you should never do is through it away in your general rubbish, to be put into landfill. That would be the biggest waste of its potential, as bikes can very easily be reused or repurposed.
Things you can do:
Donate it to charity
Offer it to friends, family or neighbours
Sell it
Break it down for parts
Repurpose it into something new
Below you can read about some of these options in more detail.
Can I give my old bike to charity?
Giving your old bike to charity is a brilliant option. There are various charities which will accept your old unwanted bikes. Some charities will require them to be in good working order, as they're just looking to sell them on. However, there are also specific schemes that have been set up to take unwanted bikes, refurbish them and past them on to people in need. The Bike Project and upCYCLE are two great examples of charities who take bikes that may be a little worse for wear, give them a spruce and pass them on to people in disadvantaged situations.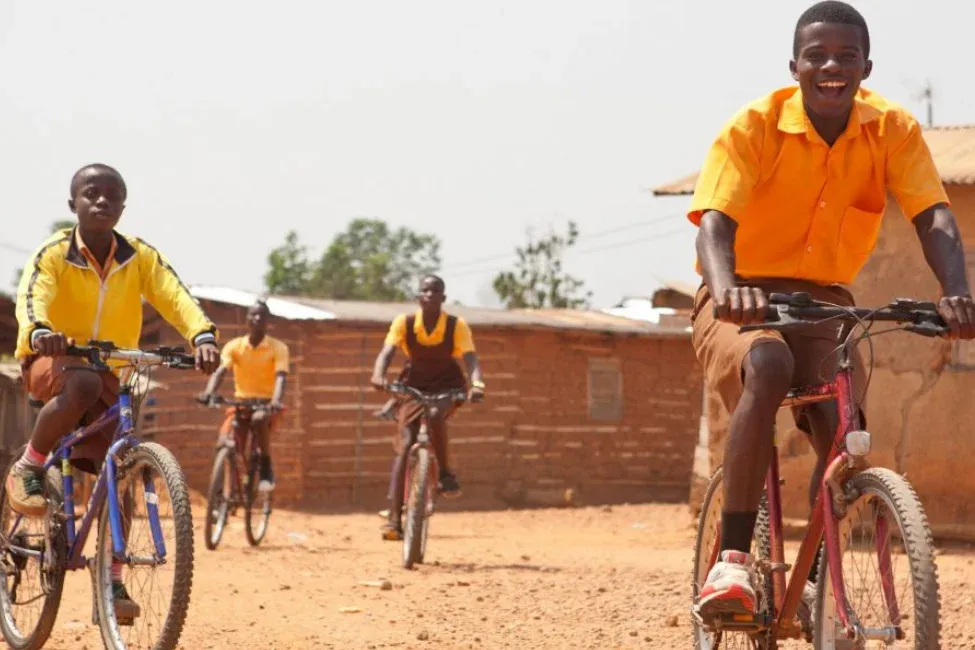 Give your bike a new home
Make sure to try and find your old bike a new home before considering disposing of it. You may know someone that would like a bike, try asking friends or family. Either pass it on for free or make a little money by selling it online or at a car boot or yard sale.
Bikes are becoming even more in demand than ever before, someone will always want your old bike. In perfect condition or broken, it's always worst offering it up.
Young children quickly out grow their bikes with plenty of use less in them. Small bikes can be passed down to younger siblings or other family members. Even to friends or neighbours with children. Bikes can have multiple owners before even remotely getting worn. Children's bikes are the perfect candidates for passing on.
What parts of a bike can be recycled?
Almost every part of a bike can be recycled in one way or another. Nearly one hundred percent of a bike's parts are usually recyclable.
Reusing can often be referred to as recycling. Bicycles can be quite easy to take apart, with the right tools. The replacing and reusing of parts can be relatively universal. Taking parts from an old non-functional bike to replace single broken parts on a functional bike couldn't be simpler.
The main recyclable parts of a bike are:
Tyres
Inner tube
Wheel rims
Frame
Chain
Chain Wheels
When completely stripped down, a bike can be fully recycled. It can be broken down into its individual materials and recycled at your local recycling centre or at some bike shops. But do make sure to try and reuse or repurpose any functional parts.
Cycling is a great eco-friendly and cost effective way of getting around. We should try to encourage as many people as possible to own a bike. By passing on your old bike, you could be helping someone financially. But you are most definitely helping the planet.